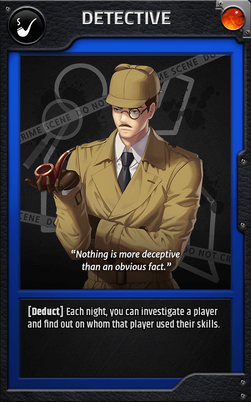 Description
The Detective is a special member of the Citizen team, with the role of investigating other players' actions.
You can use [Deduction] to investigate a player's action at night. If you choose a player to investigate, you will see who that player used their skill on.

Detective Abilities
Icon

Ability

Type

Uses

Description

[Deduction]
Active

Once per night .

If you fail in Deduction, you can not use this skill anymore.

You can investigate a player and find out on whom that player used their skills.
Community content is available under
CC-BY-SA
unless otherwise noted.